Digestive System and Colon Diseases
What Digestive System or Colon Diseases are you vulnerable to based on your diet, life-style or heritage?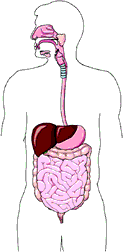 Did you know that we can control and prevent many of the digestive system and colon diseases we endure simply by controlling our diet, getting enough of the right exercises and knowing our family history? That's right. Eating the right foods, taking the proper levels of supplementation, and preparing your foods appropriately can make a big difference when addressing most of the digestive system and colon diseases we face today. Working out appropriately, doing the right types of exercise at the proper intervals can also make a tremendous difference in our health. Lastly, sometimes we are prone to what our parents and grandparents suffered from. Or are we? It's important to know our family history, because it can help us do more of the things to prevent the ailments they suffered from in their lives.
Important items to consider:
1. Colon Cancer is the second leading cancer killer in the United States, after lung cancer.
2. The dominant theory is that a low-fiber diet is the main cause of diverticular disease. The disease was first noticed in the United States in the early 1900s.
3. Colorectal cancer is most common in men and women aged 50 years and older and the risk increases with age, with 93% of cases diagnosed in people over age 50.
4. Many cases of colorectal cancer could be prevented by having regular screening exams beginning at age 50.
5. Diverticular disease is common in developed or industrialized countries--particularly the United States, England, and Australia--where low-fiber diets are common. The disease is rare in countries of Asia and Africa, where people eat high-fiber vegetable diets.

If you want to learn more about diseases of the digestion system and the colon, follow this link to digestive system and colon diseases, Check out the list below. It contains most of the digestion system and colon diseases people suffer from today. You will want to follow the diseases that have links, as you will find the information that can be helpful to you. Come back soon, as you will probably find more links to follow with powerful information regarding prevention and healing.


Barretts Esophagus
Bleeding in the Digestive Tract
Celiac Disease
Colon Polyps
Constipation
Constipation in Children
Crohns Disease
Cyclic Vomiting Syndrome
Delayed Gastric Emptying (Gastroparesis)
Diarrhea
Diverticulosis and Diverticulitis
Duodenal Ulcers
Fecal Incontinence
Gallstones
Gas in the Digestive Tract
Gastritis
Gastroesophageal Reflux Disease (GERD)
Heartburn
Hiatal Hernia, and Gastroesophageal Reflux Disease (GERD)
Hemochromatosis
Hemorrhoids
Hiatal Hernia
Hirschsprung's Disease
Indigestion
Inguinal Hernia
Intestinal Pseudo-Obstruction
Irritable Bowel Syndrome
Irritable Bowel Syndrome in Children
Lactose Intolerance
Peptic Ulcers
Polyps
Porphyria
Primary Biliary Cirrhosis
Primary Sclerosing Cholangitis
Proctitis
Rapid Gastric Emptying
Short Bowel Syndrome
Smoking and Your Digestive System
Stomach Ulcers
Ulcerative Colitis
Ulcers
Whipples Disease


If you are concerned about any of these digestion system and colon disorders, you should consult a physician.